Sorin is a Top 40 Under 40 award recipient from Avenue Magazine. He is the founder of the worldwide popular fraud prevention platform Scam Detector, the Travel by Dart TV series, and the Purposs app. You can find more about these ventures by checking the menu above, for each of the brands.
Sorin could be found parasailing over Rio de Janeiro, being ran after by lions during African safaris, or sipping wine at the best Chilean vineyards. He travels by dart as his lifestyle.
Don't be shy, get in touch with him using the Contact page.
SCAM DETECTOR
WORLD'S #1 FRAUD PREVENTION PLATFORM
---
In 2011 Sorin founded Scam Detector. What he didn't know was how popular it would become.
Scam Detector is a free platform that exposes in detail over 1,000 of the world's most notorious scams, in all industries. It educates consumers around the globe how these scams work and teaches them how to prevent financial fraud.
Scam detector has been accessed to date in 167 countries and won the 2011 Consumer Champion Awards, hosted annually by the Government of Alberta, Canada.
Visit Scam Detector's official website HERE.
TRAVEL BY DART
ADVENTURE TRAVEL MEETS TV & PHILANTRHOPY
---
Travel by Dart is a new television series that combines adventure travel, reality TV and philanthropy. Each episode two friends throw a dart a the worlds map and travel wherever it lands, no matter the remoteness, cost or difficulty.
Covering every continent on the globe, from the sands of Oman to the most remote islands of Polynesia (and beyond), over 12 episodes they uncover the history, cuisine and richness of culture that connects the world together, while seeking one distinct and outside-the-box way to bring help or positive change to the people or the land they visit.
With the goal of seeking to find the common bond of friendship and kindred love that ties the world together, every trip is fuelled entirely from their own resourcefulness.
With no fancy television studios, production companies or financial help, they film their entire journey step-by- step from beginning to end, proving that travelling to every continent on the globe, living your wildest dreams and getting past the challenges of the mundane work-life is entirely possible if you put your mind to it. Do you have what it takes to travel by dart?
Visit Travel by Dart's official website HERE.
PURPOSS 
BUY OR SELL A PRODUCT, SERVICE, OR GIFT IN REAL TIME
---
Sorin partnered with Sean Cooper, launching Purposs, an app that allows users to buy or sell products, services or gifts in real time. Visit Purposs' official website HERE and watch the video below to see how it works: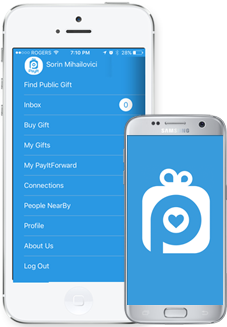 Besides creating his own show, Sorin is also acting in movies and is scouted for various commercials. His latest major deal was acting in Klondike, a TV series about the 1900s gold rush.
In it, Sorin was lucky enough to share intense adrenaline-high scenes with Hollywood's own Sam Shepard (Black Hawk Down) and Richard Madden (Robb Stark in Game of Thrones) – and made it to the Klondike official trailer of the show aired on Discovery! See the Klondike clip below at 0'39.
Click on the thumbnails below to see Sorin's clips.
Sorin has been producing his own radio show, airing on World FM 101.7. The show aims to educate listeners about various topics such as multiculturalism, issues, and events happening around. The talk show is called Sorin In The City.
Here is one of his most favorite interviews, Shyroz Khosla sharing a very emotional story about how she lost her twin babies the day when they were born: