The Best Places to Visit in Southeast Asia, Seen from A Different Perspective – Watch the Episode Below
Have you ever been on a pirate ship? If you haven't, there is an upscale one in Indonesia you should want to be on. I would even call it a "luxury" pirate ship, but hey, if it was too luxurious, it wouldn't be a pirate ship anymore. Let me show you one of the coolest things to do in Indonesia.
I threw another dart at the world map while I was celebrating my birthday in Panama and the new randomly chosen destination was Indonesia. It ended up being one of the best trips I ever took. I am happy to share with you the tips, tricks, and adventures you can embark on if you visit that side of the world.
Watch the webisode above revealing the full "pirate ship experience" (I also throw a dart at the world map at the end of it) or you can keep reading for the amazing story:
As some of you know, I turned throwing darts at the world map into my lifestyle. While I was in Panama City, I decided to throw another dart. I hit the Indonesian waters, and the search began! From visiting temples in Lombok to the best things to do in Bali, I was all over the Internet.
Meanwhile, my friend Matt – who I am doing the Travel by Dart TV show with – just confessed that for his upcoming birthday he wants to wake up on a boat, somewhere in the middle of nowhere. I said the middle of nowhere is exactly where my dart hit, so we should experience it together.
Like the good friend I am, I contacted a bunch of sailing companies in Indonesia and asked if they could accommodate us. We were invited to spend four fabulous days on Al Iikai, which means "Queen of the Sea" in the local language.
And off we went. Only this time around, we decided to invite our good friends and business partners from India, Arindam, and Satinath to join us. They had never traveled outside their country, so this was interesting already.
Walking on Al Iikai: "I Felt My Legs Melting and Becoming Part of The Wood"
Al Iikai is like no ship you've ever been on before. Walking on it, you feel like you are in a movie, only to enjoy real-life moments that come your way at the right time.
Owner Amanda Zsebik, originally from Australia, bought Al Iikai four years ago when it was in a pretty bad shape. Why did she do that?
"My life was a bit of a mess. I went on a cruise in Vietnam and realized I really loved being at sea. I loved being in this part of the world, especially Indonesia. I went to Southern Sulawesi, then it happened. I started to have this dream three times a night. I heard voices saying the name of the boat: Al Iikai. I soon went to Bali and found it. It was love at first sight."
"I am very intuitive. I like to feel what's right. When I found Al Iikai, I was walking around, and I intuitively felt if it was right to buy it. I went to the back of the boat where the hydraulics steering cables were. I felt my legs melting and becoming part of the wood on the deck. I knew I was part of the boat and we were meant to be together. I bought it right there."
Working with 5-star Hotels Housekeeping Executives
"I wanted Al Iikai to be like a floating hotel, not like a boat," says Amanda, who spends more than nine months a year on the ship. "It is my home now."
"When I bought it, Al Iikai had very small, very cheaply constructed bedrooms. I changed that. When I was renovating it, I worked with the head of housekeeping from a 5-star hotel in Bali. I did the linen, the pillows, and the mattresses with him. Then I used quality bathroom features for the best experience."
"On the other hand, I kept a lot of its initial design just to stay true to its originality."
Gourmet Chef, Quality Food
The chef working on Al Iikay, Suchi, is also a former employee of a 5-star hotel in Bali. Zsebik recruited her not only for her cooking skills. "Suchi is amazing. She is also very caring. She makes sure everyone on board is happy and healthy. She even takes care of the clients who are seasick."
The rest of the people working on the boat have varied backgrounds. "The original crew is from Southwest Sulawesi. They were part of a group called The Boogers which was Sea Fearers. They were very feared as seamen, which is where we get the name Boogie Men from. I've had to mix that up with crews from different islands from Indonesia, so I don't have one sub-ethnic group represented, but many," says Zsebik.
Experiencing the Secret Islands of Indonesia and the Real Culture of Lombok
Are you going to Indonesia soon? I don't know about you, but I love to immerse myself in local cultures.
Amanda promised to show us "the secret islands of Indonesia", rather than going to the touristy Gili Trawangan.
We landed in Denpasar and walked on the boat in the evening. We sailed away and spent the night just off Gili Asahan, a small island close to Labuhanpon, Lombok.
In the morning, we took one of the speedboats we had on board and went to the "mainland" (improper saying, since Indonesia consists of 17,508 islands). By mainland, I meant the bigger island of Lombok.
Amanda and her team took us to a village with no tourist soul on it. We went to the local street market in the back of a pick-up truck, for a couple of reasons: to experience the real culture of Lombok, as well as to buy local non-GMO ingredients for Suchi to use for making our lunches.
The street market was full of over 500 merchants selling everything and anything. We got what we needed, looked around, connected with some locals, and moved on.
Yoga Retreat: Lombok Has It All
Since we were close to Gili Asahan ("Gili" means island) Amanda took us there as well, so we could dive in the crystal-clear water of the ocean.
The island has a couple of fantastic resorts and establishments such as Nautilus, but also a yoga retreat located on top of the mountain. Magical, inspiring, empowering. Close to the clouds. Just like you see in advertisements and commercials. It is called Yoga Shala and is located right by a resort named Nautilus.
We got on the island around noon, so it was boiling. Unfortunately, nobody would do yoga at that time, when there is a million degrees outside (despite the "hot yoga" reference). The instructors come in the evenings and get tourists to do it while watching the sunset.
However, if you go to the Indonesian islands, especially to Bali, you will find yoga retreats everywhere, so don't bother searching the Internet before your visit.
We went back to Al Iikay, did a bunch of jumps in the ocean from the top of the boat and got ready for something special arranged by Amanda.
Massage with Traditional Sasak Healer in Lombok
Next stop of the day was on Gili Gede, another tiny island just off Lombok. That's where we enjoyed a fantastic massage from two local Sasak healers. Mine was called Futiana. Sasak people are the inhabitants of Lombok.
Then we visited a close-by resort called Ko-ko-mo, where we had some drinks while Alex (Amanda's daughter) and Brad (Amanda's best friend) enjoyed a nearby pool.
We went back at night and slept on Al Iikai's deck. It was a phenomenal feeling, while the boat was sailing away in the middle of the Indonesian oceans.
Best Snorkeling in Indonesia and Swimming with Turtles
The second morning was dedicated to snorkeling. It was also Matt's birthday, so the day was fully packed with things to do. Not to mention that he had his wish fulfilled, waking up on his birthday on a boat in the middle of nowhere aka Gili Rengit, in this case.
Snorkeling. What an experience. We woke up very early, around 7AM. That's early to me. Amanda came on the deck and became the human alarm. "Let's go see some giant turtles, lazy as-es," she said. You can tell we had a bond already established.
We did two snorkeling sessions that morning, one by Gili Rengit and the other one by Gili Layar. We saw three turtles and a bunch of amazing other creatures in a very short time.
In the afternoon, we went to one of the most amazing snorkeling locations in the world: Gili Nanggu. The video in the beginning of this article tells more about the experience you can have if you ever go there.
We also took Satinath and Arin with us, who missed the morning session. While we were busy capturing videos with GoPros and waterproof pouches for our smartphones, Sat lost his mobile. This made all of us stayed an extra hour at the bottom of the ocean hunting for the pouch holding his iPhone. However, that was without success.
In the evening, we celebrated Matt's birthday with the whole crew singing "Happy birthday" in both English and the local dialect, which was great to hear. They came out "playing" kitchen utensils while singing, from aluminum pans to empty water kegs. Sounds were dissipating in the sky with a slight echo effect, which was kind of weird since we were in the middle of the ocean. The mystery of the Indonesian islands.
Crazy Storm at Midnight
As we all went to bed, Captain Soke was supposed to take us to Gili Bidil overnight. In Gili Bidil, we had planned a bunch of amazing things, like surfing and kayaking.
However, just a bit after midnight, a crazy storm caught us by surprise, after more than four days of sailing. Amanda woke up and ordered Soke to turn Al Iikai back, for safety.
We had to reshuffle our arrangements for the next day since we woke up in a different location, but that's what a memorable experience is all about. I loved every second of it.
One of the Best Things to Do in Lombok: Escape to The Lady Diana's Waterfall
One other thing – the weather changed our plans to visit Gili Moyo, for a famous natural beauty existing there. Moyo is located to the East of Lombok and is the home of "Lady Diana's waterfall". The late British Princess used to come here in the early 90's to hide from paparazzi and meditate.
The waterfall is a well-protected wonder as it's part of a natural park, a reserve. I wished we'd had more time to spend on Al Iikai.
Gili Trawangan, Gili Meno, and Gili Air – The Most Visited Islands in Indonesia
After the all-night storm, we anchored by Gili Air, which we had the chance to see the next day.
We hit up the island in a wolf pack: Matt, Sat, Arin, Brad, and myself. Boys night out. No, not really. It was more like boys' day out. We went around the village, had some drinks with the locals and other tourists and watched a boxing fight.
Gili Air is one of the three 'Gilis' that are the most visited islands in Indonesia, along with Gili Trawangan and Gili Meno. If you've been to Bali, you probably ended up on one of them. If you didn't, and you're about to go there, here is what you should know:
Motorized traffic doesn't exist on any of the three. The methods of transportation available are the cidomos (horse carts, which are awesome to experience) or bicycles, up for rent.
Gili Air: Excellent Scuba Diving
Gili Air is the second smallest of the three islands and the closest to Lombok, making it popular with honeymoon couples and travelers seeking a quiet retreat.
It has a population of about 1,800. The island offers amazing snorkeling and scuba diving off its east coast, and turtles can be seen along the coral reef.
Gili Meno: Turtle Sanctuary Host
Gili Meno is the middle one of the three islands. Gili Meno has a population of about 500, mainly concentrated on the centre of the island. The main income comes from tourism, coconut plantation, and fishing.
According to Wikipedia, on the west side of the island, there is a small shallow lake that produces salt in the dry season. Until a few years ago there was also a small production of seaweed on the reef at the north end of the island. Gili Meno has swimming beaches all around the island, and a turtle sanctuary.
The island is the quietest and smallest of the islands. However, honeymooners are also often drawn to the crystal-clear water and idyllic, secluded white beaches.
Gili Trawangan: The Party Island
Gili Trawangan is the largest of the three islands and the only one to rise significantly (30 meters) above sea level. It measures 3 km long and 2 km wide, with a population of 1500.
The name Trawangan originates from the Indonesian word Terowongan ("tunnel") due to the presence of a cave tunnel built there during the Japanese occupation in World War II.
Of the Gilis, Trawangan is the most developed and geared towards tourism. A local pub, Tîr na Nôg claims Trawangan is the smallest island in the world with an Irish pub.
After we left Al Iikai, we stayed another week on Gili Trawangan. (Subscribe to my newsletter to receive the article about that!) Now let's get back to the Queen of the Sea.
Golfing in Lombok
The fourth and last day on Al Iikai I spent with Amanda, playing golf. Me, someone who has played golf five times in my life. For some reason, this time around was great and I really enjoyed it.
Amanda took me on the mainland Lombok, to a golf course called Sire Beach Golf Club, formerly known as Kosaido. We played 9 holes, and she kicked my ass, but for some reason, I felt like a rockstar. Weird, I know.
I loved the fact that the staff was very friendly, managers came over to say hi, and some of the people working there even asked to take pictures with us.
The prices are somehow similar – or not! – to the ones at North American golf courses. As a tourist, you pay 1.5 million IDR Indonesian Rupiahs (about $110US) for the fee, while the club's rental costs 300,000 IDR ($22US). The golf shoes cost you about $10US.
I Threw Another Dart at The World Map
From the golf course, we returned to the ship and prepared to say our farewells to the amazing crew we spent four days with.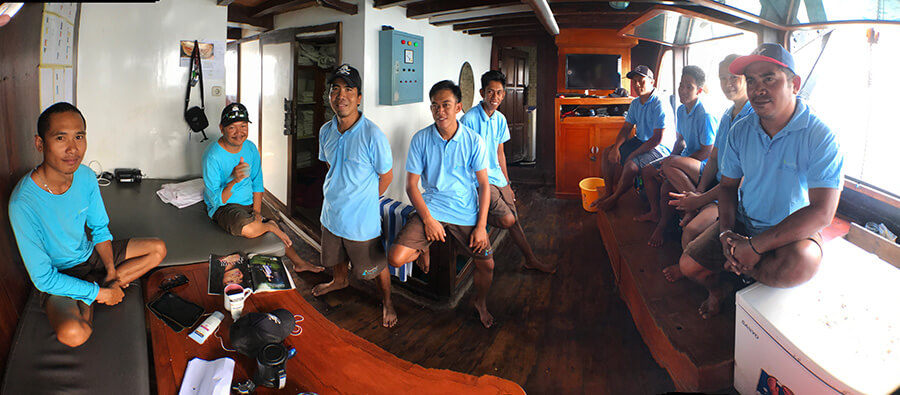 Matt and I were moving to Gili Trawangan while Sat and Arin were returning to India.
However, as I usually throw a dart at the map in every new location I visit, I decided to do it on Al Iikai, too. The crew was excited to see me choosing a new destination so randomly. I brought out my rotating map and the dart, and I did it on the rocking boat!
You'll be surprised to see what happened.
If you haven't watched the whole video yet (at the beginning of this article) well… you should.
On the other hand, if you want to connect with Amanda and her team at Al Iikai, feel free to send an email to: [email protected] or call: +62 812 4610 4019.
Travel With Me and Check Off Your Bucket List Items
That was it, folks. Meanwhile, you can travel with me to my next adventures. I am going to the following destinations within the next 12 months, so why don't you join me while we're being followed by a camera – click on the links if you're interested:
Brazil (Rio de Janeiro & Amazon Jungle)
Argentina (Wine & Tango theme)
Transylvania (Romania, Meet Dracula theme)
Italy (Tuscany & Venice Affair)
Colombia (Mysterious Cartagena)
To every single country of the ones mentioned above, I will go with an exclusive group of only 10 people (selected applicants only). I call it The Spark Experience. It's for those people who work hard enough and rarely treat themselves, is for those who don't want to have regrets, is for those who want to do something they've never done before. Is that you?
Feel free to let me know if you want to join at the bottom of every page listed above. Cheers!
Meanwhile, feel free to read about the other crazy experiences I had, from meeting the world's most dangerous man in Colombia to discovering the mystery of the Easter Island heads. You can also read about my almost being arrested in Russia, and dogsledding at the North Pole.