Watch the Travel by Dart: Russia Episode Below
To throw a dart at the world map and travel wherever it lands is fun, but I have to admit that is not for everyone.
After the tremendous success that we had with the first dart throw, blindfolded, I got even more inspired to do that. Also, to work harder on my online job, so that I can secure a lifestyle that I want.
The first trip to Svalbard, chosen by the random throw of a dart, got us a few open doors, mostly to media all over the country, and then some. We were invited on many TV station studios, got interviewed by bloggers, invited to talk in schools, etc. I mean, who does this: throws a dart at the world map blindfolded, goes whatever it lands, partners with companies, and gives back?
Because we had the media supporting us, the second dart throw was not in a home basement anymore. We decided to do a fundraising event, for which we had to get seriously creative about. We wanted to go big.
At this event, we did not offer just the usual silent and live auctions, but we gave people the chance to bid on where the dart would land. We also came up with an adventurous bid option for anyone who would pay to come with us – but with the condition that they would bid before we threw the dart! So, whether we would hit Ibiza or Somalia, the person would come along!
And somebody did just that. We had Cindy Mitchell coming with us, a 56-year old cancer survivor who took the leap of faith to embark on the trip.
Another creative live auction bid we proposed was to go to the highest bidder's house and cook a traditional dinner from the country we were about to go.
Last but not least, we offered a good Samaritan the chance to throw the dart on our behalf, for the right donation. Gaston Landry from Edmonton generously donated a sum that gave him the right to throw the dart.
Russia, With Love
The dart hit Russia. We did not know what was about to come. We started doing extensive research on what we can do in Putin's country.
Long story short, I loved Russia as it reminded me a lot of my home country, Romania. Tons of similar neighbourhoods and lifestyle, although Russia is a Slavic country while Romania is Latin.
We ended up choosing to visit and help an orphanage. The rumour is that there are over 700,000 orphans living in Russia, while some locals told us that many of these are because of alcoholic parents. Of course, none of these facts are confirmed or advertised by authorities, so we had to dig a little deeper.
We found contacts for about 40 orphanages, so we were happy that we have something to choose from. Not even close. The major issue we had was not that they wouldn't talk to us, but none of them would accept us to film within the perimeter.
The problems didn't stop there. As very few people speak English in Russia (I would say maybe 5-10%) we hired an interpreter prior our arrival in Moscow. When he found out that he has to talk to orphanages and tell them what we are there for, he quit and left us with no language support, on our first day in Russia!
From Naomi Campbell to Travel by Dart
Our luck was Olga, an amazing individual we met on the local metro (subway) on the way to the Red Square. She speaks perfect English, as her job is being the assistant of the Russian millionaire Vladimir Doronin, who at the time was no other than model Naomi Campbell's boyfriend.
We met Olga, and she was our guide and interpreter in Moscow. As days would go by, we had to find an orphanage that would say yes to our request. Olga spent hours on the phone calling every single number we had, in hopes of getting good news.
Ostrovok, A Forgotten Place
Then, one day, we got our accept. It came from Ostrovok, an orphanage located far away from Moscow, in a village called Dinskaya, where absolutely nobody speaks English.
Olga took time off work and came with us to Dinskaya for a few days. In order to get to this village, you have to fly two hours from Moscow to Krasnodar, then take another five-hour drive through a crazy, intricate traffic maze.
We went to Ostrovok and bought those 30 children gifts, clothes, laptops, toys, and an HDTV. We used the money from the fundraiser, while Cindy also spent a bunch of her own cash. The kids obviously didn't know who we were.
The fact that we, some strangers, were speaking a different language that they only heard on TV, made us look like aliens. One of the kids even said that (see the episode at the bottom of this article).
We also took all the kids and staff from Ostrovok to a circus show, which happened to be in transit through Dinskaya that day.
Saint Petersburg, One Of The Best Places To Visit In Russia
One of the most beautiful cities I have ever seen in my life was Saint Petersburg. Architecture, taste, history – all these are elements that make you fall in love with the town.
Although St. Petersburg has five million people, the tallest building is St. Isaac's Cathedral (pic below), which has a height of 101.5 meters (333 feet). It is also plated with pure gold. The authorities wanted to keep the charm and conserve the history by not allowing any developer to erect a building that is taller.
Apparently, the major gas company Gazprom, originally from St. Petersburg, wanted to build its headquarters building as a skyscraper in downtown, only to be stopped by locals who came out on the streets to protest against the proposed construction. As a result, the company had to move its offices to Moscow.
Many buildings in St. Petersburg have gold on their structures. The city looks like a huge museum, with its stunning architecture standing out everywhere you look.
Longest Escalator In The World
Former known as Petrograd (until 1918) and then Leningrad (until 1991), St. Petersburg is overwhelming. The city also feature the longest metro escalator in the world, which has 100 meters and 729 steps. It is located in the station Ploshad Lenina.
As a matter of fact, St. Petersburg metro is the deepest in the world. Of the 65 stations, 50 stations are located at a depth of 30 meters minimum.
Intrepid Travel and Nochlezska House
For the St. Petersburg part of our trip, we partnered with Intrepid Travel and Intrepid Foundation. They have a project in the city called Nochlezskha House, which is a homeless shelter that the travel company supports financially.
Additionally, every night a big van leaves Nochlezska House full of food and goes around St. Petersburg. It stops in four locations, known for being populated with homeless people for whom they deliver warm food.
We came along the ride and even delivered food ourselves to the homeless of St. Petersburg. It was an emotional experience – see picture below, view from the van.
We also visited Nochlezkha, where I donated half of the clothes I came on this trip.
My First Tattoo, Done In St. Petersburg
Rewinding a little bit, while we were in Moscow, our hotel was the host of the National Intellectual Games of Russia. Hundreds of extremely smart kids from all over the country were invited to compete in all kinds of challenges.
It was a sight to see. Brilliant little minds solving intricate problems in record times.
However, contrasting with the hundreds of thousands of orphans who also live in Russia (as mentioned in the beginning, majority allegedly because of alcoholic parents), it made me realize how important is the role of a parent in one's life.
My dad was my hero when I was a kid, but he got very sick. From him, I learnt a lot. He was the pillar in the house – a leader, authoritative, strong, and not to mess around with.
To honor him, I wanted to get a tattoo that represented all those characteristics. And since he is a Leo, well, I decided to get a lion. Check out a cool time-lapse of the making of my tattoo, done by the artist Stanislav Razyvanov from Maruha Tattoo Studios in Saint Petersburg.
Thank you also to Olga Maruschenko, the owner of the shop, who offered me this tattoo as a gift. If you are in the city, make sure you hit them up at: http://www.maruha-studio.ru.
I am now excited to get a tattoo for my mom as well, as she also taught me a lot and has been taking intense care of my dad for the past 25 years. I have a feeling is going to happen very soon!
My Russian Guide, On Why They Never Smile
As Cindy would put it, Russians are very 'stoic.' They don't smile. Unless you have a very good joke or they had some vodka, don't expect Russians to give you the fake North American smile.
When I asked my friend and guided Dimitry Batenkov from Intrepid Foundation in Saint Petersburg how come Russians are not smiling ever, he gave me the most simple and full of sense answer I could ever receive: "Why would I smile if I have no reason?"
In Russia, there is no such thing as chit chat. If you walk into a store and expect the employee to smile at you like they do here, well… don't. If you ask "How are you today?" the most probable answer would be "Have we met before?"
The point is, if you ask a Russian how he/she is, you actually have to care, which also makes sense. If you care, then that must mean you met them before, hence the personal question. And so on.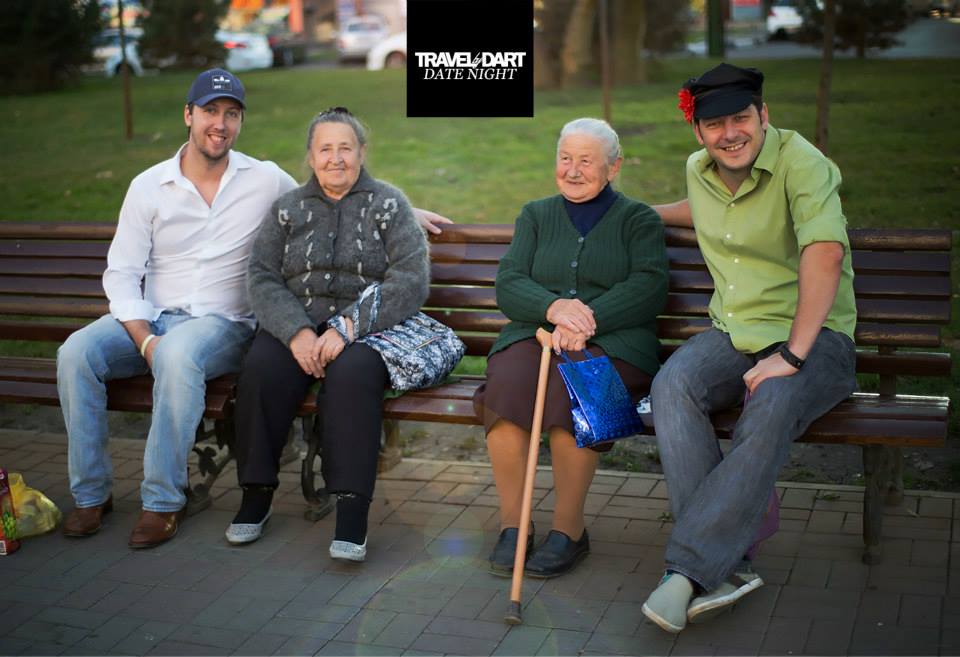 As a matter of fact, smiling in Russia might seem like a sign of weakness. Russians are tough guys, so don't mess around. Let alone the fact that if you are a guy you should never smile at another guy. You know, just so you are not labeled, if you know what I mean. Unless you want to.
Do You Need A Tourist Visa To Go To Russia?
Another important aspect about your potential travels to Russia is the tourist visa that you need to have. It was extremely complicated and time-consuming to get ours. Make sure you allow yourself at least a month to receive yours.
The Consulate we applied for visas at was very anal about every word and even about the printing! My application got rejected because the printer spitted up the pages with the last line of text cut in half. Although readable, the text was considered incomplete, and I had to fill out and print the application again, on a different machine.
That also meant Fedexing an envelope again, $60 later, to the Consulate. The application got rejected one more time because of some unclear handwriting.
We got our visas IN THE MORNING OF OUR FLIGHTS TO MOSCOW.
Is It Safe To Travel To Russia Right Now?
The short answer is yes. However, Russia is not for everyone, although is very interesting. I personally liked it more than disliked it. As a big soccer fan, I went to the last FIFA World Cups, in Brazil and South Africa. The next World Cup is hosted by Russia next year, but I am not sure if I want to go.
I know that the atmosphere will be different because of the magnitude of such tournament, but I also know that I want to feel welcomed when I interact with my hosts. Although Russians are great at heart deep down, they do not show it much to foreigners.
Next Dart Throw
Are you ready to see my next dart throw? Well, things got pretty serious after we released the Russia episode and we decided to do a full season of Travel by Dart, consisting of 12 episodes.
So, we went to India where we arranged a beautiful setup, ready to throw not one, but 12 darts! These dart throw established the destinations for future destinations to which we are going soon. See the India article and episode HERE.