Mystery. Sex. Beauty.
These three elements only begin to describe magical Easter Island, also known as Rapa Nui or Isla de Pascua.
We filmed this episode of Travel by Dart there, after the dart I threw hit the Pacific Ocean, somewhere in between Rapa Nui and Isla Sala y Gomez, which is uninhabited. So, off we went for a trip of a lifetime.
Watch the episode below:
Enjoy the adventure and all the crazy things you need to know about Rapa Nui below.
I'll tell you everything you need to know about this remote and enchanting place, including:
The history of Rapa Nui
The real facts about the Moai statues and the answer to the question: do the Easter Island heads have bodies?
How to get to Easter Island and what kind of visas and permits you need
Indigenous dances, body painting and tattoos
Scuba Diving on Easter Island
Nightlife in Hanga Roa
Accommodation and food in Rapa Nui
What to do on Easter Island
Social and political issues the people of Rapa Nui are facing
And much more
See more pictures like this by following me on Instagram HERE.
You also have the opportunity to travel with me to my next destinations, see the end of the article. Let's start:
How to Get to Easter Island
To get to Hanga Roa, which is the capital of the island, you need to fly with LATAM, the national Chilean airline, from either Santiago (Chile) or Tahiti. There are no other commercial airlines flying to Easter Island.
Although the crew members of LATAM were immeasurably kind, friendly, funny, and helpful, booking with LATAM was a horrendous and frustrating experience. I've pretty much flown with every airline, and theirs takes the prize for making something so simple as booking a flight an exercise in trying not to lose your mind.
After several attempts, over several days, we were still unable to book a flight via their website. When we finally gave up and called them, they had to take all our information – full names, addresses, passport numbers, etc. – LETTER by LETTER. And, after our flights were booked, we noticed they charged us an extra $20 dollars for some mysterious reason (I blame it on the Rapa Nui mystery).
See more pictures like this by following me on Instagram HERE.
When we contacted LATAM to ask about this extra fee, it took several days for their customer services representatives to respond, ultimately with no valid explanation for the charge.
Basically, when you're booking your Easter Island trip, make sure you've stored up sufficient patience and stamina to deal with the labyrinthine and inefficient system of LATAM.
Easter Island Arrival, Visas, and Entry Fees
The Hanga Roa airport–Mataveri International–is small and rather exotic looking. You don't need a visa per se to visit Rapa Nui, but you will need to pay an $80 USD (54,000 Chilean pesos) entry fee when you arrive. Cash only. You will receive a ticket that looks just like the one below.
If you don't have cash on you, you'll have to pay at the post office downtown when you leave the airport. They'll give you a cool Easter Island stamp in your passport!
Hanga Roa's "downtown" essentially consists of one main street that has everything you need, from grocery stores to coffee shops.
About the Easter Island Statues
Rapa Nui is known for its famous statues, carved in the shape of human heads. I heard so many legends about them before going to Easter Island. So, I wanted to find out for myself why these statues were made, who did them, whether they have bodies, and so on. Here's what I discovered.
There are 887 Moai statues erected in Rapa Nui. In the beginning, they were carved to honor important people who passed away, essentially functioning as tombstones.
The first Moai statue is about 800 years old (see photo below) and called Tai Hare Atua, which was the name of the artist who carved it.
All the Moai statues were carved at the mountain, Rano Raraku, "the factory" (the quarry). This mountain offered the carving artists a way to showcase their work, which was sold to other Polynesian tribes in exchange for their goods or services. This trade was critical back in the day.
After the Moai were carved in the mountain (see photo below), they were scooped out, pushed onto a bunch of logs, then rolled all the way to a pre-dug hole in which the head was to be erected.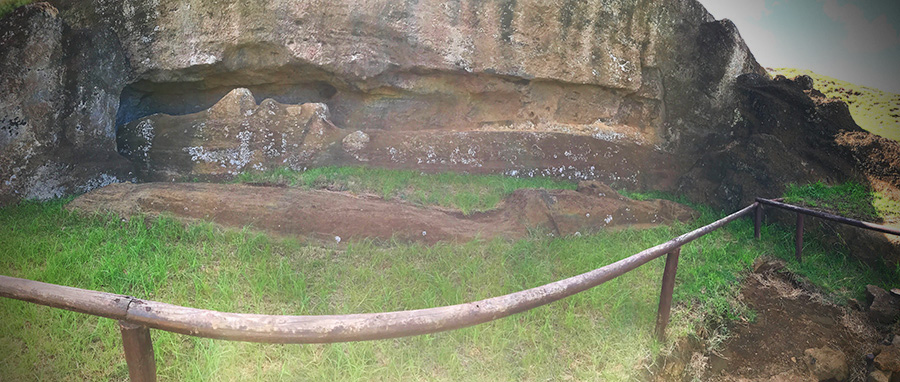 At Raro Raraku there are many statues that were never completed. They stand half-carved in the mountain, and are a big attraction for the 100,000 tourists that visit Rapa Nui annually.
Are You Ready For This? The Easter Island Heads Symbolize the Phallus
The most surprising thing I learned about the Moai, is that the heads are meant to resemble and symbolize—wait for it–the phallus!
One of the respected leaders of the local community, Mario Tuki, explained to me that the ancient Rapa Nui culture was a "phallic-centered" one. Here is what he said:
"The shape of the phallus was very important to represent the power, the virility, and the status of every person. When an important person died, the whole family would need to work in order to pay for the carving of the Moai. Everyone was cropping, fishing, working and worshipping the figure of this passed away ancestor. The Moai is just a generic name for the statues, but every statue actually has a name according to the deceased".
This resonates with claims by archaeologists that the statues were symbols of authority and power, both religious and political.
Do the Easter Island Heads Have Bodies?
The short answer is: some do, some don't. Many statues are planted on flat surfaces with nothing buried underneath, just like any statue you'd see in your town. However, more than three quarters of them are erected on the hills of the island, meaning they are standing at an angle.
Consequently, to pass the test of time and withstand erosion, they needed to be carved with a long foundation (i.e., the 'body'), so the incline angle would not be affected, causing the statue to collapse.
Some of these 'bodies' are as long as 12 meters. However, they don't have arms, hips, legs, or any such anthropomorphic features (see pic above); these bodies simply act as leverage to keep the statue erect. There are apparently a few statues that actually have bodies with visible anatomical features, which were carved to glorify the members of noble families.
Interestingly, some of the Easter Island heads even have hats. I'm told that these, too, also were reserved to commemorate only the elite members of the ancient society.
You can learn more about the Moai statues on our Travel by Dart episode. If you sign up on our newsletter at TravelbyDart.com or Sorin.tv, I will notify you when the show is ready.
How Many People Live on Easter Island? And…a Little History Lesson
There are 6,600 souls living on Easter Island, according to Wikipedia. However, according to the locals, there are about 8,000. Whichever it is, it's an astonishingly small number considering the fact that, more than 200 years ago, when the island was discovered, there were about 3,000 people on the island.
Easter Island was discovered by Dutch explorer Jacob Roggeveen on April 5th, 1772, which was Easter Sunday. Needless to say, that inspired the name of the island which is sometimes called by its Spanish translation, Isla de Pascua.
See more pictures like this by following me on Instagram HERE.
However, the majority of locals don't really like either of these names. They prefer Rapa Nui, as the origins of the island, and the population of most of the island's current inhabitants, are Polynesian, and not Chilean.
In the 16th and 17th centuries, the population of Rapa Nui was somewhere between 15,000 and 20,000. By the time Roggeveen set foot on it, a century later, there were only 3,000 inhabitants.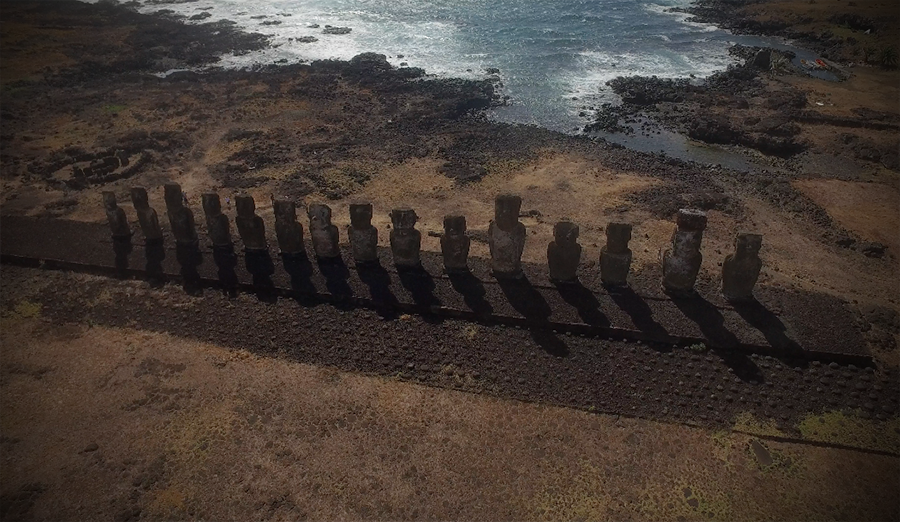 The population was later significantly decimated by a series of devastating events in the 1860s. In December 1862, Peruvian slave raiders struck. Violent abductions continued for several months, eventually capturing half of the island's population. Among those captured were the island's paramount chief, his heir, and those who knew how to read and write the Rongorongo script, the only Polynesian script to have been found to date.
I'm not gonna go into too much history here, as that's best left to the specialists. You can read more about the history of the island on the Wikipedia page here.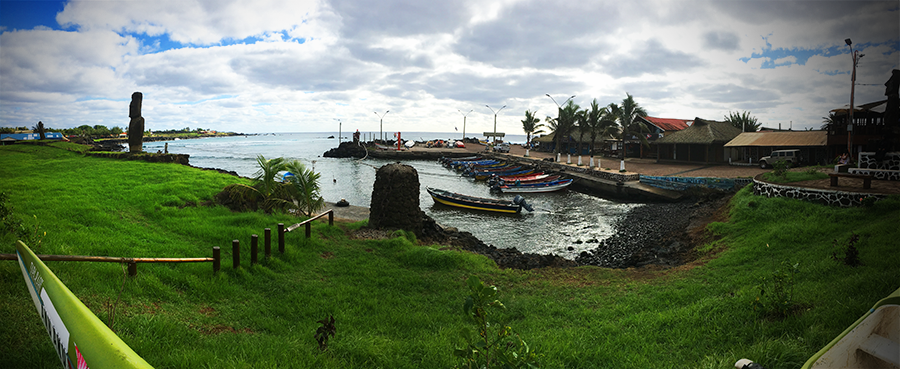 What to Do on Easter Island
Okay, let's talk about fun things! There are many things to do in and around the capital, Hanga Roa: scuba diving, quadding around the island, surfing, watching a traditional Rapa Nui indigenous dancing show, going on tours, caving, getting a tattoo, or even partying at one of their two night clubs, etc.
Let's take a look at some of the activities you can embrace.
Scuba Diving on Easter Island
There are a few scuba diving shops in Hanga Roa to choose from, but we really had a blast with the folks at Carlu Dive. Carlos and Luka gave us an amazing experience taking us offshore, and even filming our dive underwater. Check out the quick 2-minute video below:
It was my first time diving, but their expertise made me feel at ease and comfortable.
The highlight of the dive is a Moai statue that is resting right at the bottom of the ocean!
If you are heading to Easter Island, you can contact Carlos and Luka by visiting their Facebook page here, or sending an email to [email protected].
Rent a Quad and Go Nuts
While in Hanga Roa, we decided to rent a couple of quads. It's an incredible way to travel the entire island and see all it has to offer in one day, from hundreds of Moai statues, to wild horses, phenomenal sceneries, and mysterious caves. We paid about $100US for two quads per day.
Make a friend while you are roaming around the island, and not only will you get a free guide, but you'll discover a new face of the island.
Watch a Polynesian Show at Kari Kari
One of the best nights we had on Rapa Nui was at a place called Kari Kari, located on the main street. It's a cultural centre featuring indigenous shows a couple of times a week.
From what I remember, it costs around $20 USD to get in, and definitely worth it. You'll get a taste of what the Rapa Nui culture is all about, when it comes to entertainment.
The show is about an hour and a half and truly dynamic. Watch the video below to see a sample of this amazing show:



Rapa Nui Traditional Dance Video
Tattoo and Body Painting on Easter Island
Not too many people know that the origin of the tattoo comes from Polynesia! So, while we were on the island we wanted to get one so bad.
The best tattoo place in town is arguably Mokomae (the name of the artist), but he was on the mainland while we were in Hanga Roa, so couldn't do it. The second option was to do it at one of the other three places that offer tattoos in town, however we made a rookie mistake.
We scheduled our tattoo appointments on our second last day on the island. Unfortunately, we ended up having so much to do right before we left, that we ran out of time to get our tattoos.
However, all was not lost. We may have not got our tattoos, but we got some amazing body painting done instead.
Our hostess, Hanana Riroroco, contacted her brother and set up a fantastic evening on our last night there. Her brother (who is also called Rapa Nui, just like the island), spent the day going around the island to collect a special soil for body paint. He mixed it with some colorants and painted our bodies as ancient Rapa Nui warriors.
Not gonna lie, the traditional body paint on a couple of white dudes looked a bit ridiculous, but it's all about the experience.
Rapa Nui also taught us a traditional dance, and we danced like ancient warriors around the fire. It was a fantastic evening with great new friends that we'll keep for life.
I'll re-enact and perform the tribal warrior dance for anyone that will buy me a drink. :)))
Nightlife in Hanga Roa
I'm no stranger to night clubs, but what I saw in Hanga Roa, I never seen anywhere else.
We were invited to party the first night we got to the island. Pre-drinks with new friends (Hanana's family, see below) carried on until about midnight, and then I assumed it would be too late to go out. They kept saying: "We can't go out too early". What did that mean?
Well, turns out the two bars/clubs that are in Hanga Roa — Picano and Piriti — only open at 1am. But it gets even crazier.
When we got to Picano at 1am, it was empty. I thought, 'yeah that makes sense since it's late and there's just not a lot of people on Easter Island' Nope. So wrong. By 2am, people started to gather. By 3am, it was packed! The club was still bumping at 6am, when we left. Piriti was just the same the next night.
Food on Easter Island
Almost everywhere you go, you will find fish and seafood to eat, which is no surprise on a Pacific island. The most popular item at every restaurant is ceviche (below), which is raw tuna served with salad and lemon. Other common menu items are camarones (shrimp) and chicken. Every now and then you may luck out and find octopus and risotto.
An entree at every restaurant averages around 15,000 pesos, which is quite expensive, especially by Chilean and South American standards. That's the equivalent of $22 USD, which will bring the cost of a full meal, including an appetizer and a drink, to $40 USD.
See the bottom of the article for more information regarding the currency on Easter Island.
Accommodation on Easter Island
There are several hotels and motels in Hanga Roa, but I definitely recommend living at a local house via Airbnb. We rented Mama Carolina's three bedroom house, only 5 minutes walking distance from downtown, and I can't recommend her highly enough.
Carolina went out of her way to make us feel at home, providing extra services free of charge. Along with Hanana (who manages the booking, see them both in the pic below the moment they welcomed us), not only she kindly arranged our pick-up from the airport, but also provided an interpreter, as very few people speak English on the island. Thank you ladies!
Check out their properties HERE and HERE, and book if you're heading there:
Toki, the Amazing Music School
Part of what we do at Travel by Dart is that, wherever we go, we commit to doing something to help the people or the land of that country. On Easter Island we chose to devote these efforts to Toki, aka Earthship Music School (see pic below). This is an amazing educational institution teaching indigenous kids how to play ancestral instruments, in addition to other learning initiatives geared toward cultural preservation.
The school is run by a group of remarkable founders and teachers, such as Mahani Teave, Enrique Icka, Mario Tuki, Andrea Amar, and Juan Kanko, just to name a few. Together, they oversee and instruct over 70 children each week.
Just like the island, the school is trying to become self-sustainable. Most of the materials used to build it are recycled (see fake flowers below), and rain water is collected through an ingenious system built on the roof, and used for the school's plumbing.

We offered, through our Travel by Dart show, to build them a performant website that would operate as a platform to help them with their fundraisers. However, due to a lack of local manpower to operate it, they suggested we make a cash donation toward Toki instead, which we gladly did.
We also donated a few backpacks and some goodies on behalf of Robertson College, a Canadian national education institution who sponsored our trip (see pic below).
You can support the school by donating money or buying a ukelele – send an email to [email protected]
Easter Island Tours
There are tonnes of companies that offer tours of the island, with which you can do many of the adventures and activities mentioned above, as well as surfing and caving.
We chose to organize everything by ourselves, with the help of generous locals who offered to be our guides, such as Hanana and Mario. Feel free to browse the internet for Easter Island tours, but my suggestion is that you do it after you land in Hanga Roa, and meet some people first. You won't regret it.
Filming in Rapa Nui National Park
If you are going to Easter Island to film, you may need a special permit since it's a national park. If you are using your mobile phone or a DSLR camera, you don't need such a permit, but if you have a bigger professional camera, just like we did with our Sony FS7, you need to have one or you risk a hefty fine or being kicked off the island.
The permit, to film professionally, is not cheap. We were asked to pay 850,000 Chilean pesos, which is equivalent to $1,265 USD.
To acquire a permit, you need to send an email to Andrea Valdes at CONAF (Corporacion Nacional Forestal, aka National Forestry Corporation): [email protected].
Here is our amazing videographer Young Kim while he was filming us quadding – he and my travel partner Matt also took some of these pics above – thanks boys.
Currency on Easter Island and Expenses
The local currency on Rapa Nui is the Chilean peso, with the exchange being $1USD=671 pesos. And, be prepared to part with a good chunk of your pesos while you're there, as this remote island is notoriously pricey.
In fact, going to Easter Island is one of the most expensive trips I've ever taken. Over eight days, we each spent about $1,200 US each, which doesn't include the cost of the flight (an additional $1,600 US for the two legs: North America – Chile, Chile – Easter Island), nor our accommodations, or filming expenses.



That said, Easter Island is a once in a lifetime experience, and experiences and extraordinary moments are the most worthwhile things to spend money on in this world.
You should watch our Travel by Dart: Easter Island episode, for PHENOMENAL visuals, adventures, and more education.
Current Social and Political Concerns on Rapa Nui
In present day, the Rapa Nui struggle with a few social and political issues.
The first one is that more and more outsiders are moving to the island, bringing cars and other means of pollution. Although the island is only 63.2 sq miles, there are now over 500 vehicles that are imported annually. It seems the Rapa Nui don't have this issue with actual foreigners, but more so with the Chileans who are moving to the island from the mainland.
Moreover, the Rana Nui people claim the arrival of outsiders, has also brought an increase in hard-core drugs to the island, as well as a culture of thievery, and other illegal activities.
A second concern is that the neighbouring international powers are abusively fishing in the territorial waters of Rapa Nui, arguably catching in one week more than the locals catch in one year. Below is a map with the international waters belonging to Easter Island – the two baby blue circles.
A third issue is that the local people are deeply dissatisfied with the Chilean government, claiming they're not getting enough funding and support from the mother country. The Chilean government does provide free health care and education, however this assistance is conditional on islanders move on mainland.
Last, but not least, the island is trying to become self-sustainable. There are various efforts to make that happen, and periodically environmental leaders of the island head to Chile to meet with authorities on this issue.
Travel With Me and Check Off Your Bucket List Items
That was it, folks. Meanwhile, you can travel with me to my next adventures. I am going to the 6 exotic destinations below within the next 12 months, so why don't you join me while we're being followed by a camera? To every single country, I will go with an exclusive group of only 10 people (selected applicants only). I call it The Spark Experience. It's for those people who work hard and rarely treat themselves, is for those who don't want to have regrets, is for those who want to do something they've never done before. Is that you?
Click on the links if you're interested:
Brazil (Rio de Janeiro & Amazon Jungle)
Argentina (Wine & Tango theme)
Transylvania (Romania, Meet Dracula theme)
Italy (Tuscany & Venice Affair)
Colombia (Mysterious Cartagena)
Feel free to let me know if you want to join at the bottom of every page listed above. Cheers!
.