Watch The Travel by Dart: Svalbard Episode Below
As promised, here is our Travel by Dart: Polar Faith episode shot in Svalbard. That's where the craziness started. You can probably see today a bunch of people throwing a dart at the world map, but my idea and the actual 'let's do this s*#t" started back in 2011. And here is the proof.
Travel by Dart started as a fun project after my friend Matt asked me what would be an ideal life for me. I said, "I wanna throw a dart at the world map and go there whenever I want, with whoever I want." That's all we needed to say out loud. We went and bought a dart and a map, and we did it. The rest is history, and you know exactly where I am now since you are on this blog.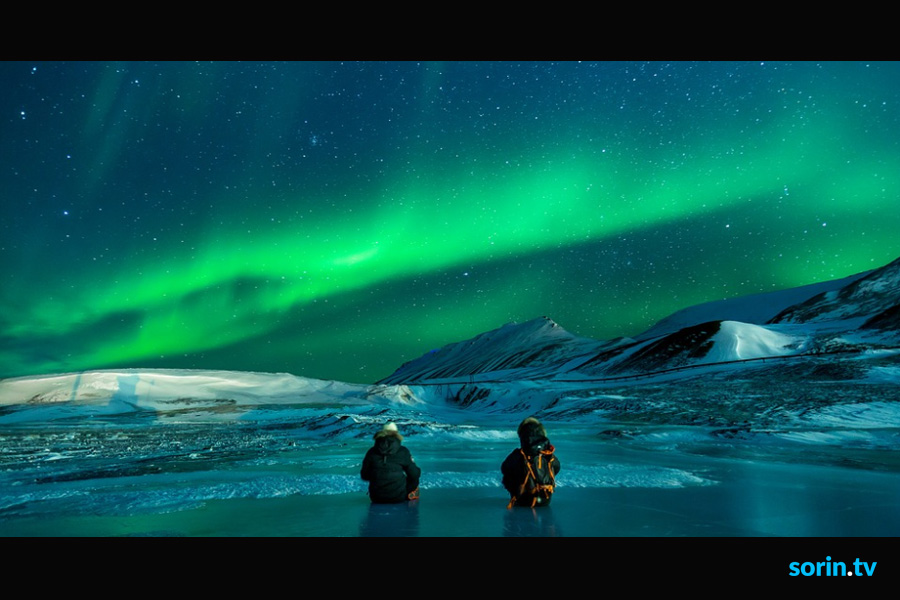 We threw the dart at his house, blindfolded, see video below. The debate was: who is going to throw it? We decided to both do it once, and to select the final destination (between the two) by flipping a coin.
I hit Azores, West of Portugal. Matt hit the map in the vicinity of North Pole. We flipped the coin and… the winner was the North Pole throw.
Longyearbyen, Final Destination For Travel Inspiration
Since our only rule was to travel to the closest land mass in case the dart hit the ocean, we ended up in Svalbard, a livable land mass that belongs to Norway.
It is an archipelago with over 2,600 people and about 3,000 polar bears, with the capital in Longyearbyen. Svalbard is also known by its former Dutch name, Spitsbergen.
We originally had eight weeks to plan for the trip. The first 2 weeks, we went down a huge rabbit trail with another concept, then held a focus group and found out we were in left field. We re-thought our process which left us with six weeks until the trip starting our plans all over again.
Getting close to the North Pole in December is not the easiest thing to do since there is pitch black 24/7 and the temperature is three times colder than your mother in law.
We had no money, but lots of ambition. After researching the Polar life in general, we discovered that the Polar bears' species would disappear in the next 75 years, according to scientists. We created a website called Polar Faith and launched an online campaign to contribute. We committed to give $5 to World Wildlife Fund from any donation we would get, big or small.
Canada Goose came on board with providing all of our expensive arctic gear as soon as they saw our story featured in the media. Silver Jeans came on to provide us some fresh new clothes to look good on camera too.
A few cash donations came in through the website, but not really much; about $2,000.
That's when we decided to take with us a professional videographer, our friend Matt Zinger, and shot commercials in the Arctic for eventual sponsors who want to showcase their business in a non-traditional setting.
Bingo! We got four big-hearted people who sponsor us with $1,000 each, and off we went to Svalbard! We floated the rest of the trip with a visa card and donated some cash as promised to WWF.
Facts About Svalbard
On our plane from Tromso (Norway) to Svalbard Matt ended up sitting next to a former General Manager of Svalbard Tourism, who loved our story. Within 24 hours of our arrival in Longyearbyen, we were meeting with the government agency to support our adventure and provide us with full gear and guides to go out and film 6 hours a day.
The amazing people at Svalbard Tourism (thank you Kjersti Noras!) helped us with dogsledding treks, snowmobiling, glacier climbing and took us to places we would never have imagined.
Did you know one of Chef Ramsey's apprentices has the largest wine cellar in Scandinavia nestled deep in the permafrost with the best ice wines in the world?
Or that Svalbard is host to the $9 million dollars' global seed vault, where cryogenic un-genetically modified seeds are stored just in case the world comes to an end?
Everything was fully organized for us, and we had a blast; all because we took a leap of faith and just went for it. All of this awesomeness was not only awesome for the sake of keeping our expenses ridiculously low but was instrumental in helping to transform the footage we had into a documentary pilot called Polar Faith. You can watch it at the bottom of this article.
What To Do In Svalbard
There are so many things you can do in Svalbard if you go there. We didn't have enough time to do them all, but here are a few: dogsledding, snowmobiling, visiting the Global Seed Vault, or even diving in the almost frozen waters of the ocean. Let's take a look at some of these.
Svalbard Snowmobile Tours
One of the most expected Arctic adventures we did was to get on snowmobiles. We were invited by our hosts to participate in a Svalbard snowmobile tour organized by Svalbard Snoscooterutleie AS. Oh, boy, what a day. For about six hours we had an amazing time. Here is the video, below:
Arctic Adventures: Polar Dip in -45
Kjersti Noras from Svalbard Tourism is one funny, charismatic individual. She told us, along with Hilde Falun Strom from Spitsbergen Travel (now Hurtigruten Svalbard), that there is a tradition in Svalbard that every newcomer has to do a Polar dip, meaning to jump half-naked in the waters of the Ocean.
Well, needless to say, we had to do it. I was so excited about it. Should I remind you that this was December, 200 miles away from the North Pole?
We manned up and decided to do the 'tradition.' The water was almost frozen, with pieces of ice floating around. Kjersti was waiting for us right there, with the car heated up at max.
Our dip lasted about 45 seconds, from the moment we ran into the water and jumped in the car. However, it felt like it was FOREVER. I couldn't feel any piece of my body, including the most important ones.
After that, we went straight to a sauna at the place we were staying. Next day, Hilde gave us a diploma on behalf of Spitsbergen Travel, officially declaring us 'real Polar bears.'
Dogsledding in Svalbard
One of the highlights of my life was dogsledding in the middle of an extreme location and weather, being pulled by 16 amazing Huskies. It was all thanks to Robert Nilsen and Svalbard Husky, his company. Robert took the time to give us an amazing experience that I wish everyone to try. Here is the video, below:
Both Matt and I had our own sled, while Robert was leading the way with a huge lantern and a gun, protecting us from the Polar bears.
If you visit Svalbard, make sure you connect with Robert. You can find him at +47 78 40 30 78 or email post at svalbardhusky dot no.
Svalbard Global Vault Seed
The general idea is that the Global Seed Vault's mission is to provide a safety net against loss of diversity in traditional gene banks. It officially opened on February 26, 2008, and ranked number 6 on Time Magazine's Best Inventions of 2008.
The Norwegian government funded the whole project and it costed about $9 million US to build. Another interesting thing is that storing seeds in the vault is free to end users, with Norway and the Global Crop Diversity Trust paying for the operational costs.
The number of total samples located in the Svalbard Seed Vault is 930,821.
The Vault has about 120 meters in length (390 feet) and features heavy security systems. Seeds are packaged in three-ply packets and heat sealed to exclude moisture. There is no permanent staff on site.
Dead People Can't Be Buried In Svalbard
The reason the Global Seed Vault was built in Svalbard is that the island lacks tectonic activity and has permafrost, which helps preservation. It is also the reason dead people cannot be buried here. That's why when older people get very sick they are transported on the mainland, Norway. Crazy!
One last super interesting thing about the vault is that it functions as a safe-deposit box in a bank. As Wikipedia explains it: "The bank owns the building, and the depositor owns the contents of his or her box. The Government of Norway owns the facility, and the depositing gene banks own the seeds they send. The deposit of samples in Svalbard does not constitute a legal transfer of genetic resources.
In gene bank terminology, this is called a "black box" arrangement. Each depositor signs a Deposit Agreement with NordGen, acting on behalf of Norway.
The Agreement makes clear that Norway does not claim ownership over the deposited samples and that ownership remains with the depositor, who has the sole right of access to those materials in the seed vault. No one has access to anyone else's seeds from the seed vault. The database of samples and depositors is maintained by NordGen."
Ice People, World's Northernmost Alternative Newspaper
Believe it or not, Svalbard has a newspaper too, called Ice People, published by Mark Sabbatini. We had a great time meeting the man who published our adventure on their front page (out of the four :).
Mark used to work for the LA Times and now resides in Longyearbyen. Mark calls Ice People "the world's northernmost alternative newspaper."
If you are ever in Longyearbyen, connect with Mark and say hi for me. His email is marksabbatini at yahoo dot com.
How To Get To Svalbard
Svalbard belongs to Norway. The whole island has a population of 2,642, while the main settlements are Longyearbyen (the 'capital,' 1,800 inhabitants), Barentsburg (main Russian colony, 400), Sveagruva (210), and Ny-Alesund (100).
In order to get to Longyearbyen, you need to take a plane from either Tromso or Oslo. The options are Scandinavian Air and Norwegian Air, flying almost every day. From Oslo – between $150-350US each way there is a 4-hour flight, while Tromso – $100-$300 – is only one hour and 35 minutes.
Svalbard Cruises
You can also get there by boat, as a few companies offer cruises. However, a three-day cruise starting from Longyearbyen is around US$1,500, cheapest cabin, twin sharing.
There are also longer cruises, starting from Oslo. These may go up to US$9,500, for a 12-day trip.
Money in Svalbard
The currency used in Svalbard is the Norwegian krone (NOK), which is not surprising. This is also accepted in the Russian settlements such as Barentsburg. The equivalent of 100 kroner is $11.65US.
Svalbard is a tax-free zone, so a few shops in Longyearbyen sell products at prices well below mainland Norway's.
Accommodation in very 'cheap' places gets you to $60/night while a basic meal costs around $15. However, these numbers can double if you stay in a full-service hotel.
Guided activities start at about $60 per day (trekking and kayaking) but can go to $120 and above for tours requiring specialist equipment.
Svalbard's duty-free status means that alcohol and sports clothing, etc., are actually much cheaper than on the mainland.
Spitsbergen Polar Bear Tours and Other Attractions
What people should know is that the Polar bears are not the cute animals that you see on TV on the Coca-Cola commercials. They viciously attack people as they get hungry. A few months before I was in Svalbard, a group of British youths went through a tragedy because they didn't respect the rules of the land.
They camped outside Longyearbyen. One night a Polar bear ripped the tent and killed a boy. Ever since, the local authorities set up strict rules when it comes to walking around the town and outside. You are not allowed to get out of certain zones of Longyearbyen, let alone outside the town, in the boonies.
You can only do it if you have a gun or if you have a guide with a gun. That is why during all the tours we did, we had someone with us, carrying a rifle. If you are in Svalbard, you have to obey the rules. Period!
However, I also want to thank Spitsbergen Travel back then (now known as Hurtigruten Svalbard) for their support. Hilde Falun Strom was great in providing us with information we needed, as the company specializes in amazing tours around the island. Safe, educational, and memorable.
You can contact Hurtigruten Svalbard at: +47 79 02 61 00.
Best Time To Visit Svalbard
I went to Longyearbyen from December 26 to January 8. Although you probably know this, in Svalbard there are six months a year when it's dark (obviously, the winter), while from March to September is light pretty much all the time.
So, the best way to visit Svalbard is definitely the summer. There are hundreds of tourists visiting, while you can also see awesome locals like Stig Halvorsen and his friends parasailing over the archipelago.
Svalbard Aftermath
We came back home with amazing video clips, and soon enough we ended up with Travel by Dart: Polar Faith. It was accepted into the Global Visions Film Festival, the longest running documentary festival in Canada. Our first film placed 4th, and the media loved us. We were on every local channel that exists. International media outlets also started to smell a good story.
All these lead to a deeper motivation. A question that we found within ourselves arose: "If we could get everybody involved, could we make a difference in the world regardless of whatever cause we serve?"
There are so many things in the world that need fixing, could we travel the world trying to help and prove that world change really is possible?
This questioning brought us into getting ready for our next dart throw but with WAY more passion and desire to do it.
So, we did it again. Next dart we threw hit Russia. You can read the article HERE.
Meanwhile, feel free to check my articles about visiting Easter Island, Colombia, India or Panama.